Bottom Lines Top Dollars is a collaboration by Laura Boo and Hadassah Damien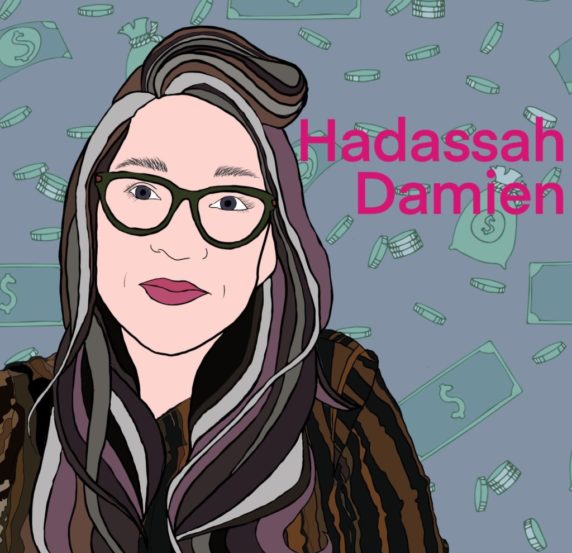 Hadassah Damien
A CAUTIONARY TALE OF THE ONE WHO DOES THE SPREADSHEETS…
Hadassah Damien is a design strategist and facilitator, economics researcher and finance educator, open-source technologist, award-winning LGBTQ artist, and entrepreneur. From participatory budgeting to crypto startups, DIY sliding-scale tours to traditional banking, Hadassah's worked on the ways money works — and can work better — and has come back to tell the tales.
She's accredited by the College for Financial Planning as an Asset Management Specialist, is a Certified LGBTBE® supplier, and has a Masters in American Studies from the CUNY Graduate Center. Outside of work she makes immersive theatre games, costumes, and writes, receiving a Lambda Literary Award for her anthology Glitter and Grit. tw: @hadassahdamien //
Laura boo
THE ACCIDENTAL ANTI-CAPITALIST ACCOUNTANT
Laura Boo (LB) is a Montreal-based performance artist, arm-chair academic, deep-lez auntie, and professional accountant.
A punk-at-heart weirdo, LB spent her 20s pursuing a master's degree in Art History and Theory, working in arts non-profits or leftist workers coops, publishing zines, and volunteering for queer and anarchist activist collectives. Somewhere along the way, LB started performing burlesque, stand-up comedy, and opulent class-boundary-cross(dress)ing drag, founding an underground cabaret in her collective house, DJing at venues from Vancouver to NYC, and becoming a producer and promoter of a myriad of nightlife events across Canada (dance parties, festivals, concerts, live theater and more).
So how did this person become the sort of femme who spends her extra time making podcasts about economics and politics?
The financial disaster of 2008 coincided with LB's Saturn Return, which brought her to the edge of personal destruction but also sparked in her a commitment to understanding the systems that almost ruined her.
LB returned to school at the age of 32 to start over with a new undergrad, the first step on a long road to getting her CPA title (Chartered Professional Accountant). In pursuing an understanding of the inner workings of accounting and finance, LB has worked at a "Big Four" audit firm, been a bookkeeper in a convent, started her own company, taught managerial and financial accounting to thousands of students at both Concordia and McGill Universities, served as the treasurer on 3 different boards of directors and helped build the accounting department of an early-stage tech startup.
Now as one half of the Ladies Who Crunch, LB is finally trying to bring all the pieces of this weird journey together and share some of the ideas, questions, and insights that have come out of this mess.
IG: dropdeadlauraboo
OUR RESEARCH TEAM
Let's face it – our partners are awesome and they help us with research…and provide tons of leads and genius to the work.